A website is the heart of Dental Practice's ability to communicate important information and build trust with prospective patients. Potential patients in your area are using the web to research and find out who the best dental provider is for them. The more personalized the website, the better opportunities a dental practice can have to attract quality patients.
Here are some ways to make your website effective:
Embed Positive Google Reviews on Your Site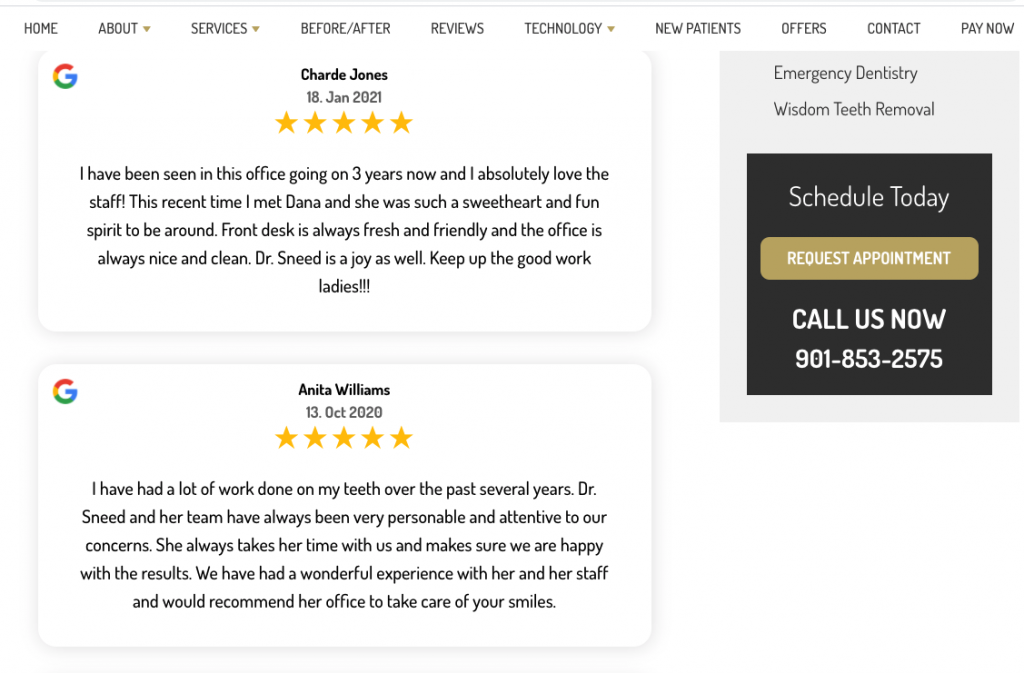 Reviews have become the most valuable way to communicate the quality of your practice. Everyone is now looking at reviews to make a buying purchase, and dental practices are no different.
Having your reviews highlighted for patients to read can help your office build trust. We recommend having a tab at the top and integrating reviews directly from your Google profile. Showcasing your 5-star reviews can have a stronger impact than just posting testimonials in text.

Place Personalized/Recent Photos Throughout The Site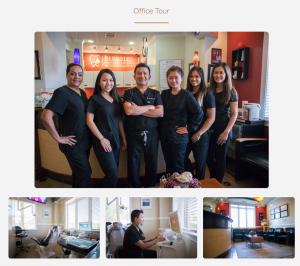 The most common complaint on review sites are not about the treatment, but about the patient experience with staff and doctors. Show prospective patients they will have a great experience with your team by sharing friendly and warm photos of the team.
In certain demographics, patients may care about the advanced technology or having a modern office. Having photos showcasing that can create interest in your practice as well.
Unique Value Propositions and Treatments You Want to be Known For
Just including a list of services or a generic description of your practice is not enough. Your website should also focus on highlighting what is unique about your practice. It could be highlighting how many years your staff has been with the office, the technology your office uses for patient comfort, an in-house membership or financing plan to communicate affordability or that your practice strives to for patients to never wait.
No two dental offices are the same – make sure you use your site to educate the benefits of your practice.

Doctors Bio/Meet Our Team Page
Our data shows us that patients visit the doctor biography page often. They are making a decision to put their oral health in your hands so it only makes sense they want to read and learn more about the person proving them care. In addition, they will often be working with your staff and including staff information can create lots of trust.
Items you may want to add include, your certifications, specialties and/or areas of expertise in your field.
Before/After Photos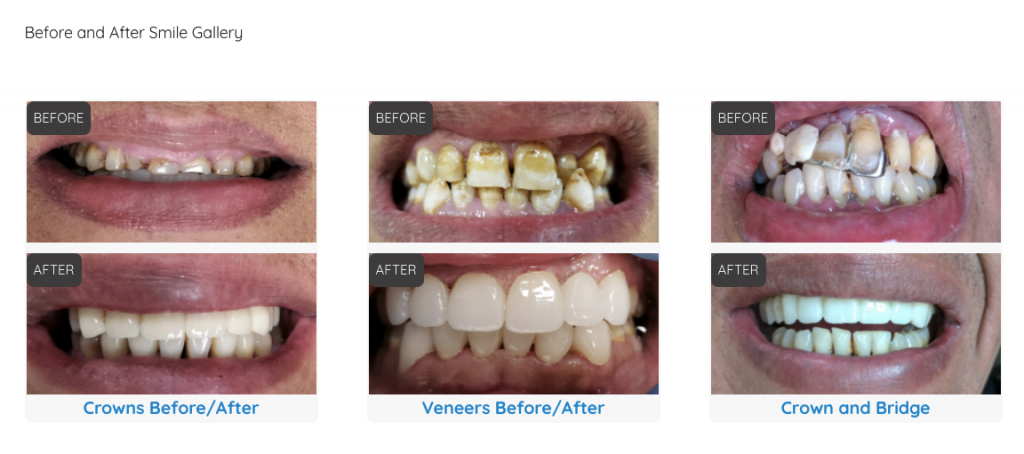 A great way to grow your bottom line is promoting and offering restorative and esthetic treatments. Patients looking to make an appointment may visit the before & after page to get examples of past work that you have done. They may identify with similar issues and call you or inquire about the specific treatment during their appointment. Before & After photos are a great way to create interest in bigger cases, don't miss out on that with your website.

New Patient Offers/Treatment Consults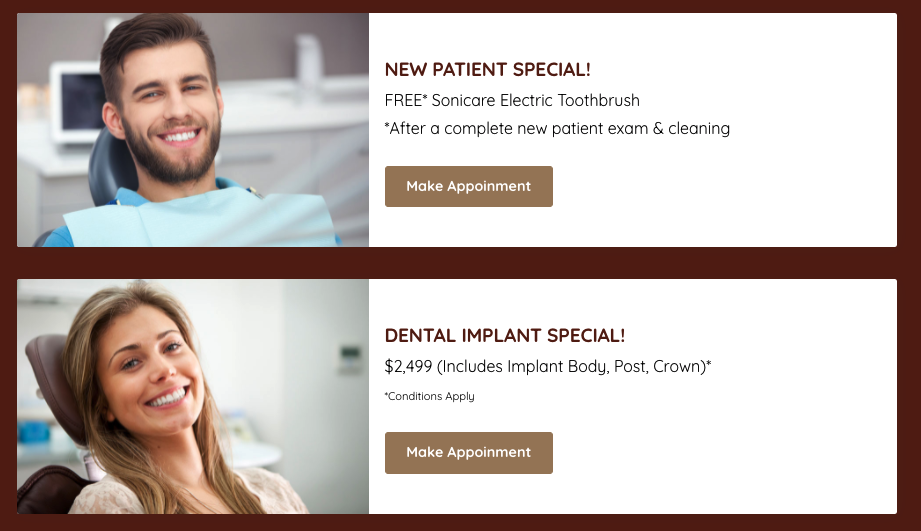 Providing offers or complementary second opinions can attract patients who may be looking for Esthetic or Restorative treatments. In addition, we've seen initial consult offers as a great way to get patients in the door. In addition, patients will receive treatment recommendations from other dental offices but want a second opinion or go a dentist who they can trust. Your website is a great place to highlight that you offer those treatments and that you can provide a consult with the dentist.

Schedule Your Free No Obligation Demo
Are you looking for an affordable & reliable way to upgrade your outdated practice website? The DocSites recently received a 4.8 out 5.0 in an independent Survey for our affordable website services! We are happy to provide you valuable information during our no-obligation sales process. Call us directly at 888-980-4949 to speak with our team today.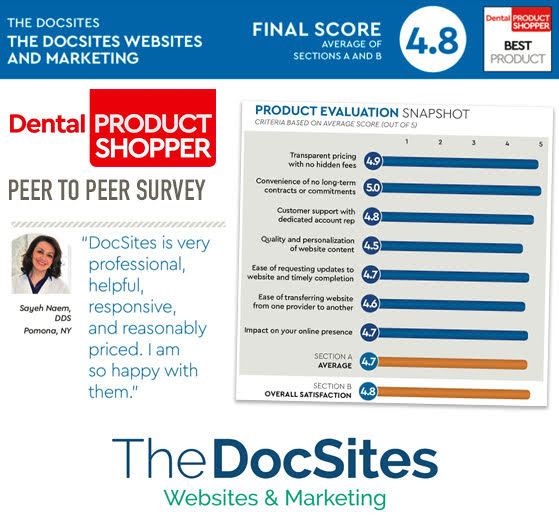 Special Offer from The DocSites: Get a Dental Website for as low as *$499 Setup, with our 50% OFF Special Offer by mentioning Nifty Thrifty Dentists.
Monthly fee starts at only $49/month (or $59/month with SSL) and includes monthly hosting with free updates (by request), and no long term contracts.
We also offer affordable and effective online marketing packages starting at $99/month with no commitments. Switching to The DocSites is now easier than ever, plus we do all the work!
* Discount Offer applies only to Standard Website Designs
*Disclaimer*
This post contains affiliate links, which means we receive a commission at no additional cost to you.  The funds we receive are small and go towards running this site and our podcast.  For more information about our affiliate policy, please click this link.